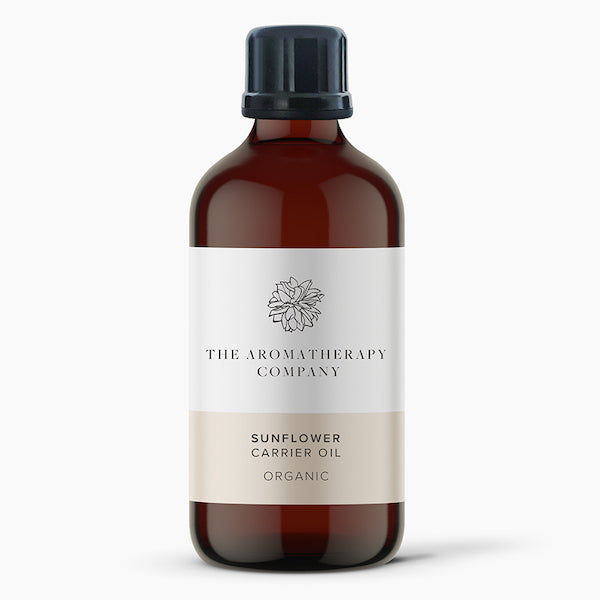 Sunflower Organic Carrier Oil 100ml
Ideal for creating a protective and balancing barrier, our beautiful Sunflower carrier oil is packed full of great nutrients. Filled with natural fatty acids, antioxidants and phytosterols, this versatile oil is the perfect oil for cleansing, calming and nourishing the skin.
Ideal for sensitive skin
Cleansing and calming
Nourishing and moisturising
Filled with fatty acids – Linoleic, Oleic, Palmitic, Stearic
Emulsifying
Contains carotenoids, phytosterols and Vitamin E (Antioxidant)
100% Organic. This product is certified as organic by the Soil Association, is Paraben SLS free and has not been tested on animals.
Helianthus annuus (Sunflower) seed oil
This product is certified as 100% organic by the Soil Association, is Paraben SLS free and has not been tested on animals.
Can be used as a base for essential oils blends and for direct application to the skin. Ideal as a skin moisturiser or hair conditioner.
Keep away from children. Not to be taken internally. Store in a cool dark place.
MADE WITH LOVE
Pure & Essential
Everything we create is handcrafted by professional aromatherapists.
We started this company to get closer to nature and to educate others on the benefits of natural, holistic skincare and aromatherapy. For us, this is the secret to healthy mind and body.
HOW NATURE INTENDED
Organic & Natural
Inspired by the natural world around us, we are dedicated to using only organic and natural ingredients.

Because of this, we're proud to be a certified partner of The Soil Association. Our essential oils meet their professional standards and are genuinely 100% organic.
We also only source ingredients from ethical farmers and support projects across the globe that give back to those who need it most.

Besides caring for our customers, we also want to protect our planet. We've partnered with Ecologi to support plantation projects around the world. For every product you buy, trees are planted in an effort to reverse climate change.

Together, we can help to make the world a better place.